**********************************************************************************************************

The LWCF funds last year increased to 1.3 Billion.
Obama's legacy will be taking all he can, while giving nothing back. What's new, right?
.
We've been feebly attacked on overstating the value of these lands we care about.
The Wild Olympics/Wild and Scenic Rivers Act.
As many of you now know there have been many plans and a variety of mis-information surrounding the proposed
Wild Olympics/Wild and Scenic
plan. For those unfamiliar with it, this plan was introduced by Washington state U.S. Congressman Norm Dicks and U.S. Senator Patty Murray in 2010. Green party lobbyists from Quilcene,
partners and associates
with the D.C. Pew Environmental Group, worked closely with Washington legislators to concoct the taking of our state lands for national ownership to create a bigger park with extra wilderness, to add to the million acre park they already could not take care of.
The announcement of the Pew groups' desire to re-designate our public Olympic Peninsula lands for a bigger park was
brought to the attention of peninsula residents by a
whistleblower
. News came that deals were cooking, involving the
acquisition
of public recreational forestlands,
for other purposes
by the federal government. Their reasoning was for
Extra"
Iron Clad Protection".
Keep in mind as you read on - Federal protection does not realistically exist. Extra protection is an invented myth.
The plan was meant to intentionally pass under the radar unnoticed, to shove it through congress with as little public awareness as possible. They knew the opposition would be tremendous and would get in the way of their "democratic" taking agenda.
This was a plan that would negatively affect all bordering private property owners, where planned designations would overlap and also cut off access to the much enjoyed open recreational lands. Quinault learned some of these areas chosen for mock protection, were surrounding Quinault's pioneer Community as well as other areas in Grays Harbor, Jefferson and Clallam counties. In fact this plan
would enormously effect
EVERY Olympic Peninsula county through the designations of Wild and Scenic Rivers alone! THE TAKING OF OUR WATERS. Quinault and the other rural
unincorporated adjoining
communities, were simply left out of the
information loop
The offices of Wa. states Ex-U.S Congressman Norm Dicks (forced to resign) and both U.S. Senator's Patty Murray and Maria Cantwell all denied any prior collusion with the Pew groupies
amid rumors of being

"caught in the

wind" by the
whistleblower
.
In fact, we soon learned that they had a 2 year jump start conjuring the Land Grab with D.C's Pew co-conspirators and congressional aids in Olympia, before meeting with us.
That was their 1st lie.


This team (Dicks/Murray/Cantwell
)
purposely
hid their knowledge to conspire with the Washington D.C. pew environmental party, to organize the plan to GRAB Land and Water for mock Preservation "
and for other purposes
". Other purposes indeed.
Note:
Norm Dicks was soon forced to retire
amid several scandalou
s rumors of misused funds, other impropieties and cover ups. Evidently there is something to those huge donkey eared democrats.
Earmarks!

Over time the congressional team brought out
a conglomeration of
several sets of maps, supposedly
with revisions:
made just like the first (
courtesy of Pew Group
). However
,
these Maps were topographical ONLY; an artistic rendition at best. Very vague and even more intrusive.
Quinault refused to play this game of charades by immediately nitpicking the details. It was the
consequences of this plan that concerned us
: federal park plans that never seem to change. ONP has been a
continual burden
to the historical pioneer communities of Amanda Park, Quinault, Humptulips and
Clearwater
for over a century!

*************************************************************************************



This is where it gets serious with us at the Scam

The problem with new Wilderness


No Access. No Management. No existing trail repair = No Trails. Catastrophic fire danger made worse by "let it burn" Wilderness policies. (
In 1964 the Wilderness Act was passed granting just 9.1 million acress within 13 states
) Thousands of acres each year are consumed by wildfires in wilderness areas.
In one year 109.5 million acres of wilderness park in 44 states BURNED
.The wilderness law is "Let it Burn" prohibiting interference to extinguish them. Organic fires (eg. lightning) must be left to burn out naturally.
This is absurdity
in itself. The huge Quinault Ridge area that is up for designation, borders state Hwy 101 on the west and the Colonel Bob Spotted Owl Wilderness area on the east side. The dividing road; an important access link, will be removed.
This new unwanted wilderness, will have cell phone towers (with an access road for service trucks only) to the top. Don't bring a bicycle, they are not allowed either within the wilderness. This is a Public Summer Recreation Area with 3 connected communities. Wild designations will actually make any remaining use areas more congested, with more even tougher restrictions. The exact opposite of the environmentalists intended goals.
Or is it?
Unsuitable for Wilderness
Where Are The Campgrounds? -Promised since the spotted owl decision? and jobs? Visitors to the Park have been disappointed year after year, with road and trail closures, dilapidated campground repairs neglected and some without water.
Where did the funds go?
We need more recreational oportunties.
There is no work in the wilderness.
Our Public forest recreation areas are important to the people who enjoy outdoor recreation. Where has the access gone? and will it totally disappear, under the even more confiscation by federal government over-reachers? PROBABLY SO. They are well on their way already
The Colonel Bob Trail
- This very popular Wilderness trail located right in Quinault and closed for over 4 years. Unable to facilitate repairs since a high velocity wind storm took down the mountain tops. First regulations and then protest from the environmentalists stopped all efforts. No Chainsaws Allowed! After years of losing tourist dollars from the impassable trail VOLUNTEER groups after quite a struggle with crosscut saws, finally got approval to clear the trail, WITH CHAINSAWS!
The Big Cedar Trail
- Just off north shore road, was closed for 2 months. short trail to the worlds largest cedar
July Creek
-Former North Shore campground on Lake Quinault, now day-use only. Danger of falling limbs from immense cedars and Douglas firs.
Whiskey Bend
- Another important north entrance road to the railhead closed in (2011) Permanently closed 2015?
Now lost is
Pyrites Creek Trail, Rustler Creek Trail, Promised Creek Trail, Litchy Creek Trail, Tschletshy Creek Trail, Howe Creek Trail, Finley Peak Trail.
The Humptulips River
- "Wild Olympics" purposely crafted their plans to keep their short walking trails outside of wilderness designations, for the benefit of just 1 kind of user,
THEMSELVES
. Road closures
exclude all others
. Fair or selfish?
Many river bars that provide excellent recreation and family camping may no longer be used with "Wild and Scenic" river designations. There is absolutely nothing in this plan for senior citizens. Sunday drives through the back country won't be possible. The walking loop trails around Quinault are not wheelchair accessible.
The Upper Metheny
- An area locals enjoy visiting frequently. Road closures have already sectioned off vast acreage for the protection of wildlife. This is another very healthy and productive forest, with rivers and creeks that do not need more protecting.
Queets Clearwater
-The main road in from Hwy101 by the Clearwater School has been cut-short and closed for several years from washout. The campground closed. West Boundary Rd. is the only south access into the entire upper Queets river region . The "Wild Olympics" result is that this premier river with it's huge watershed will be inaccessible and unseen by all but a very few. Queets Ridge is a perfect example of a well managed working forest and recreation area in harmony. Essential school trust land is lost when designated. Future timber value would easily dwarf the $900 million. Mineral Resources are also found here.
Update June 2015
-
Queets Wilderness BURNS all summer through Sept. and consumes
2,796 acres of old growth forest.

A small crew was sent in to monitor the fire before it became out of hand (as wild fires do). At that point a larger crew could had to be mustered up and deployed. The fire burned all the way to the top of the ridge.
Here are Photos from June while the fire is still in it's infancy

Does Wilderness Boost the Economy?
Does Wilderness Prevent Wildfires?

Are their more sensible solutions
for protecting our natural resources and wildlife habitat?
Are we living in 1492? or a more intelligent 2016?


**********************************************************************************************************
The Colonel Bob Trail
-
Scam-essay
This popular Wilderness trail closed for 5 years.
***********************************************************************************************************************************
\


The problem with Wild and Scenic
This "ACT" authorizes the
unlimited
purchase of additional lands: 1/4 mile on each side of the river.
More restrictions on use and access will result
.
Buffer zones will be put in place on private lands. (see SMP)



Pay Attention here. It is very important to understand our objections.
What is it about The Wild and Scenic Rivers Act inclusion into the Wild Olympics campaign that is troubling? Why are we being disarmed by the "No Dams" statement, because it is so obvious and redundant, that a river in this park would need such protection is beyond comprehension.
Note:
The Elwa Dam was removed and it is becoming obvious that a huge amount of environmental damage has occurred sending rippling effects to many species. The swans of the upper lake disappeared) AND PROPERTY. This is anything BUT a non-issue, and may prove the most damaging part of it all. NOW THERE IS A DROUGHT?
The Elwa Tragedy
Designation of these rivers gives them over to federal ownership and control, and they can do anything in the world they want after that. The river is the water and water is the most valuable commodity in the world today. Why should the people of this state relinquish this right of ownership? Pure deception by dishonest and corrupt politicians. A penny per drip.
Once a river is designated; it goes through the process to place the sections into one of three categories:
Wild
,
Scenic
, and
Recreation
. This is to be determined by the Dept. of Interior or Agriculture depending. It specifically says:
AFTER IT IS DESIGNATED, then it will then be decided in certainty.
This guarantees that anything that is said prior to inclusion, about whether
ANY
part of
ANY
river is to be Wild, Scenic or Recreation, is
meaningless
..
They are given one year
to do this and
three more
for a management plan. Approximations mean nothing.
This is the catch

:

The Wild and Scenic Rivers Act
allows itself to buy more lands. THEY CAN NOW BUY LANDS INDEPENDENT FROM THE WILD OLYMPICS ACT, 1/4 mile on each side of the river and if the piece of land is larger? they can buy the whole thing
with the extra not tallied into their limits
. They can negotiate deals easily enough. They will buy the land that can't be logged!
Everybody should know they are already not allowed to log it!
Don't they? Yet they will likely be paid for the timber anyway. Sweet deal. (using the Land and Water Conservation Funds?)
Establishment of Wild and Scenic River boundaries:
(from the Intra-agency Wild and Scenic Rivers Co-ordinating Council)
"..have a legally established boundary. This responsibility is left to the managing agency to be completed following designation".
"..an interim boundary will be established with-in
1/4 mile of the ordinary high water mark on each side of the river."
"..the boundary also defines the area in which the managing agency, has land acquisition authority."
"
..besides acquisition
,
other protection tools such as locally adopted and enforced zoning laws
,
donations of easements to land trusts
and
co-operative agreements
(collaboraters), are
techniques to be used.
The Park owns the entire Northshore of the Quinault River acording to the high water rule. Refer back to W&S review: It states that when the govt. is in this position it exerts full W&S regulations on both sides of the river.
Will the Wild and Scenic Rivers Act further inhibit us from protecting
our homes and land on South Shore and the other 18 rivers named?
YES!


S1278 restrictions on water resources projects:
"No department or agency of the united states shall assist by loan, grant, license, or otherwise in the construction of any water resources project that would have a direct and adverse effect on the values for which such river was established."
and once again from the
intra-agency council
....."
shall be preserved in a free flowing condition
."
The ONP will only admit to partial damage they caused at
Finley Creek
even though they were the only ones excavating it
We've asked that
they fix it and all other ecological damage they have caused on the Olympic Peninsula. No act should even be considered before this is done. They now have an estimated $500 million maintenance backlog for ONP (2014). $12 Billion nationally and another $11 Billion for the USFS, F&W, and BLM combined. See:
Quinault Restoration Project
Back to Wild and Scenic; there is also a
CONDEMNATION CLAUSE
. "When the private property becomes fully encircled."
S1277 land acquisition
-
"...grant of authority to acquire state and Indian lands."
"...lands owned by the state may be acquired only by donation or exchange."
"...nothing shall preclude the use of condemnation to clear title
or
acquire scenic easements
as are reasonable....necessary to give the public access to the river."
"...authorized to accept donations of lands and interests."
Wilderness and Wild and Scenic Together Completely Encircles Us
What happens upstream comes down.
You don't need the cost of condemnation, if the river does it for you. -muddyshoes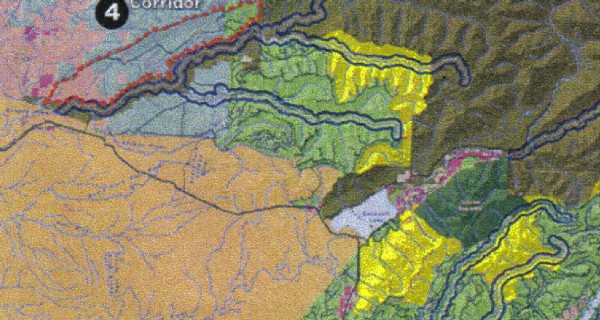 There's a bigger problem if you live here in Quinault
Neilton or Amanda Park.


We know "first hand" what a horrible mistake this would be. The Park has been busy buying properties and
demolishing good homes on the north shore for years.
why? Because the north shore was
mistakenly
included in the original Park survey and annexation. AN attempt to return it back to our community in 70s' failed through a twist of fate. Ironically, a much slimmer junior congressman Norm Dicks was involved along with Senator Jackson to pass this legislation but expiration dates ran short and then with a new congress in a different mood; refused to ratify the bill. See
The Northshore Documents.
On South Shore of the Quinault River ONP
deliberately caused
the river to destroy a wonderful wetlands/habitat area and still will not publicly acknowledge their responsibility. Hydrological reports by the Quinault Indian Nation scientists have established this connection as FACT. The Alluvial fan function of Finley was/is disturbed and creating the mess downstream. South Shore Homeowners were suffering the results and because it was on private property; no-one would help to save it or seriously consider our urgent pleas. State agencies refused.
An ounce of prevention is worth a pound of cure.
Homeowners here were further prevented from removing log-jams and needed more help to get sections of the river bank fortified by rock which was also denied. Meanwhile, the united homeowners took matters into their own hands (
risking arrest
) and lined the critically damaged banks with huge spruce logs tops which floated up with the rising waters, their limbs fanning the torrential currents. After several years and nothing but "studies", was there a cure? Only a possibility of one. A $100+ million restoration restoration project for the whole river that will take decades and results wont be known for a century.
Finley Creek -
Environmental Damage
ONP alters the natural watershed for their benefit on the north side of the Quinault River to the detriment of the south side.
This is what has happened.
Scam essay
Documents of proof
of illegal tampering that changed the course of the Quinault River.
Request
for information concerning this 15 year excavation project. We have discovered they over extended their usage permit and that much of the work was also done on outdated permits. What happens if you do that?
Our story is; no-one but the park puts a D9 Cat in the creek bed, and changes the river.
Lost habitat
Quinault Residents And Their History Will Be Removed Next
If The Wild Olympics Act Becomes Law
Scam Exclusive
Eudies story: From the book
Rain Forest by Elizabeth Marston.
We have been permitted to publish this wonderful account about the "other time" back in '38 when the pioneers were
run off
their homesteads to make the Park and given what was a "pittance for their property", according to her daughter, Phyllis Miller, a lifetime resident of Amanda Park.
-------------------------------------------------------------------------------------------------------------------------------------
---------------------------------------------------------------------------


An Economic Disaster for all affected areas

Olympic National Park News Release
New Wilderness Stewardship Plan
WE WERE there in opposition
They never steward much, will be counting the crushed dandelions trammeled by use, assessing trends and limiting access. That is the Wilderness Plan. WE suspect it to be expensive as NO LOCAL JOBS will be created, NO new trails opened; which will be in agreement with responsibilities to the UN as a World Heritage Site and Biosphere. They deny this. Just as they denied it in the past.
WE are pleased to learn re-locating wolves is NOT part of the plan here at this time. Transporting Wolves however has been implemented in other parts of the NW and have already been sited in the north cascades. It doesn't take long for packs to breed and proceed, creating havoc and decimating the decreasing wildlife.
Everyone wants a better Park! 1 Million Acres of Park Wilderness is clearly enough; expanding the boundaries, or creating additional wilderness will be a critical detriment for its protection.
Will Wild and Scenic Rivers have no impact on the ONP; as the Wild Olympics supporters claim? You will learn that it will be disastrous, as it impacts all the rural communities, the property rights of homeowners and more than likely will wreck more environment. Washington State has even passed a law prohibiting the picking of wild berries on public access land w/o a permit of course.
2016
-Read and heed. It not just happening in Grays Harbor
Social and Economic Catastrophes caused by Federal Land Control

ALERT!
A New Scam! - Sept 2014
NO PHOTOS ALLOWED in the WILDERENESS unless you PAY?
Range Magazine did a study

Where will visitors go?


In Quinault they will all be funneled into the same place, with no place to go! Campground space is very limited

when open,

rooms get sold out (in summer only), activities are restricted. You are offered a short gravel packed nature trail where one can dream of being in a primeval wilderness whilst viewing a hillside decimated with blown down rotting timber. You may even succeed in deceiving yourself that this is old-growth timber! Then
plastic refuse bags will be discarded, gas might be bought and tourists will drive on to the next corporate offering. Where will all the unhappy campers go?
Who and What Will The Park be Advertising?
"Come see the Wilderness"? ....."You won't have to leave your car, because the park says it will bring the Wilderness to you"! They will soon boast the loop trails have all been excluded from
extra protection
designations.... But you will be able to comfortably walk a short 1 mile trail into the Olympic National Rain Forest for your big adventure into the wild".
The few workers in Quinault are mostly seasonal and no longer qualify for unemployment benefits .... Corporate Aramark who bought out our beautiful once
locally owned and operated
Lake Quinault Lodge, has instituted an order to reprimand employees who discuss the controversial issue of "Wild Olympics"
with inquiring guests who have seen our STOP signs
.
"We are Partners of the Park" says Aramark; while striving to become a monopoly for all Olympic Park accommodations, as with other
State and National Parks
nationwide.
Unfortunately Striving to answer customer inquiries is not on their agenda
.
Lake Quinault Lodge is an historical land mark in our local pioneer community. Since it's construction in 1926 it served as a roost for outdoor enthusiasts visiting the Quinault area. Our Lodge always provided warmth and welcoming by locals that were employed there.
The compassion local residents have for this landmark and it's history is by no means to be taken lightly.


As one former employee put it.
"We love our Lodge. We just don't like what Aramark came in and done to it". They took out our Pioneer and Native American furnishings and modernized it. I don't know. They removed it's character and the cultural arts it proudly represented over the years and now promotes only the Park. It's a whole different feeling". You can still enjoy the beautifully hand built fireplace, but the warmth and natural atmosphere in the lobby is missing. It transformed into more of a hotel then the cozy get-a-way, that made it so popular.

Other Threats to Our Peninsula Public Lands


The Nature Conservancy
Note:
2014
The Natures Conservancy quietly makes yet another land deal with Rayonier and grabs
2,300 acres
of prime forest resource land on Queets Ridge for preservation and conservation. The collaboration took place

behind the public radar

. Deal done and ready to be signed the day after the

required

public meeting notice.
Rayonier requested The Natures Conservancy wait for the public announcement of this land mass they would be selling, until the deal was in place and ready to be signed.
More prime
resource land
leaves the public opinion behind knowing it would never produce tax revenue again. The Natures Conservancy (TNC) now owns many parcels on the Olympic Peninsula for these same purposes. Preservation and experimentation on their TAX EXEMPT properties.
Where does TNC get all that money?
Who they pay, where it goes and more
.
Over $8 billion In ASSETS
Purchasing Olympic Peninsula lands? Just say no

Our Government has dished them out hundreds of thousands in grants to be used for land acquisition and pet conservation projects this year. Tax grant money from our pockets. The conservancy has their hands out everywhere. They are a part of big government landlords. Another PPP (a governmet Public-Private-Partnership). The Natures Conservancy purchases land nationwide.
More Land Sir?
Map of the Clearwater parcel
Why acquire this? - GOVT GRANTS WILL EVENTUALLY EXCEED THIS LANDS VALUE
Clearwater Residents And History Will Be Removed.
Their annual pioneer celebrations on the river bar may not be allowed. This celebration has been a tradition for over 100 years.
The Natures Conservancy now have projects on the Clearwaters popular dipping spot that runs through the Lions club day use picnic area.
Lake Ozette
The loss of these productive lands would disrupt the sustainable harvest cycles that have taken the last 30 yrs to develop, since the spotted owl decision. WE GROW TREES! A natural cycle for renewable future resources forever. Mismanagement has destroyed private property and burned down shelters to be replaced with
improper trail construction. A proverbia
l
Smoking Gun

of criticisms!
and
more
environmental damage by ONP
Another Ozette deal
One of many this year. Why should the NP buy land from the government granted Cascade Land Conservancy? Thats not right. They bought it for conservation reasons didn't they?
Then let Cascade pay to manage it!
Dabob Bay
And another land swap around Quilcene. It's all like a big checkerboard, or is it a sleight of hand "pea in the shell" game?
The National Parks Traveler
This describes the La Push land swap. 785 acres for the tribes safety (we were all for that part) BUT the 4100 acres was not tribal land. It doesn't work that way. So much for so little? A very strange set of accounting procedures by Miss Cantwell and the ONP. Do you think they are happy about giving up their beach? Guaranteed on down the line they will regret allowing government intrusion. SB3222
The 4100 acres
The people around Lake Crescent aren't too happy.
SB3222
These homeowners are getting the same squeeze put on them. Why this particular 4100 acres land grab? Cantwell/Dicks proposed to help the Tribe, but why must this be
at their expense
?
150 Acres
of Olympic Peninsula public land; gobbled, grabbed, and locked up for theTaylor Checkerspot Butterfly.
This courtesy transfer is from
a military base In California?
By Pearl Rains Hewett - Read On
We Respectfully and Rightfully Requested
1.
A complete list of any currently found environmental threats including the Finley Watershed.
ONP will still not fully admit to their errors in the 15 years of excavation in Finley creek (watershed runoff) into the Quinault.
Destroying while they claim to be preserving
. Bull trout habitat was almost destroyed by their neglect of their fatal error.
Park "know it alls" refuse to take the blame. They've blamed it on logging. Though there has been no logging here for over a half century.
2.
An overlay map of the peninsula
including all roads and trails,
please acknowledge and define areas of the decommissioned roads, roads scheduled for
decommissioning and open roads.
3.
A complete data survey of these areas in question
W

e have accurately disputed their proposed boundary claims; that areas available for tree thinning would not be included.
THEY ARE
.
Significant errors have been found
by our experts.
The vague claims by Wild Olympics Campaign are unsuitable, as a basis for government regulations that restrict the freedom of access to public lands. The

negative impacts on the economies

of bordering communities will be a disaster.
In the end, Quinault was hit hard and being punished
for it's resistance, and receives
MORE
land confiscation.
Since the creation of the Olympic National Park, the federal government (by way of ONP) has been removing private property through harassment, cond
emnation, boundary extensions
, added buffer zones among many other agency rulings; to force in-holders to become "willing sellers" as a means for human removal. The "willing seller" myth might better be explained here.
Willing Seller
.
They didn't bother to bring any accurate maps to their meetings. Actually they never came to any of their meetings. Office gophers instead were sent to make a deal, to present our citizens with a vague topographical maps and few answered questions.
Do you suppose they didn't want to leave any of this foolishness behind to actually be studied?